Register
Co-ed Thursday Free Agent Draft Flag Football (Spring 2021) Flag Football (Grass) · Co-Ed Social
Accepting Free Agents Only
MonTueWed
Thu
FriSatSun
6:15pm to 8:00pm
7 vs 7
Free Agent Fees

Early Bird

$45.00

+ 3.0% Processing Fee

Regular

$55.00

+ 3.0% Processing Fee

Late

$65.00

+ 3.0% Processing Fee
It's time to get social along with some competitive balance! Introducing our brand new Free Agent Draft Flag Football league! Teams will be drafted in person from selected captain duos for a fun new experience with Best Damn Flag Football.
(This league begins in March outdoors! We must start registration very early as we need to finalize signups and have a team draft so we can submit shirt orders in advance of the league start)
You register as a FREE AGENT only and every player is DRAFTED to a team!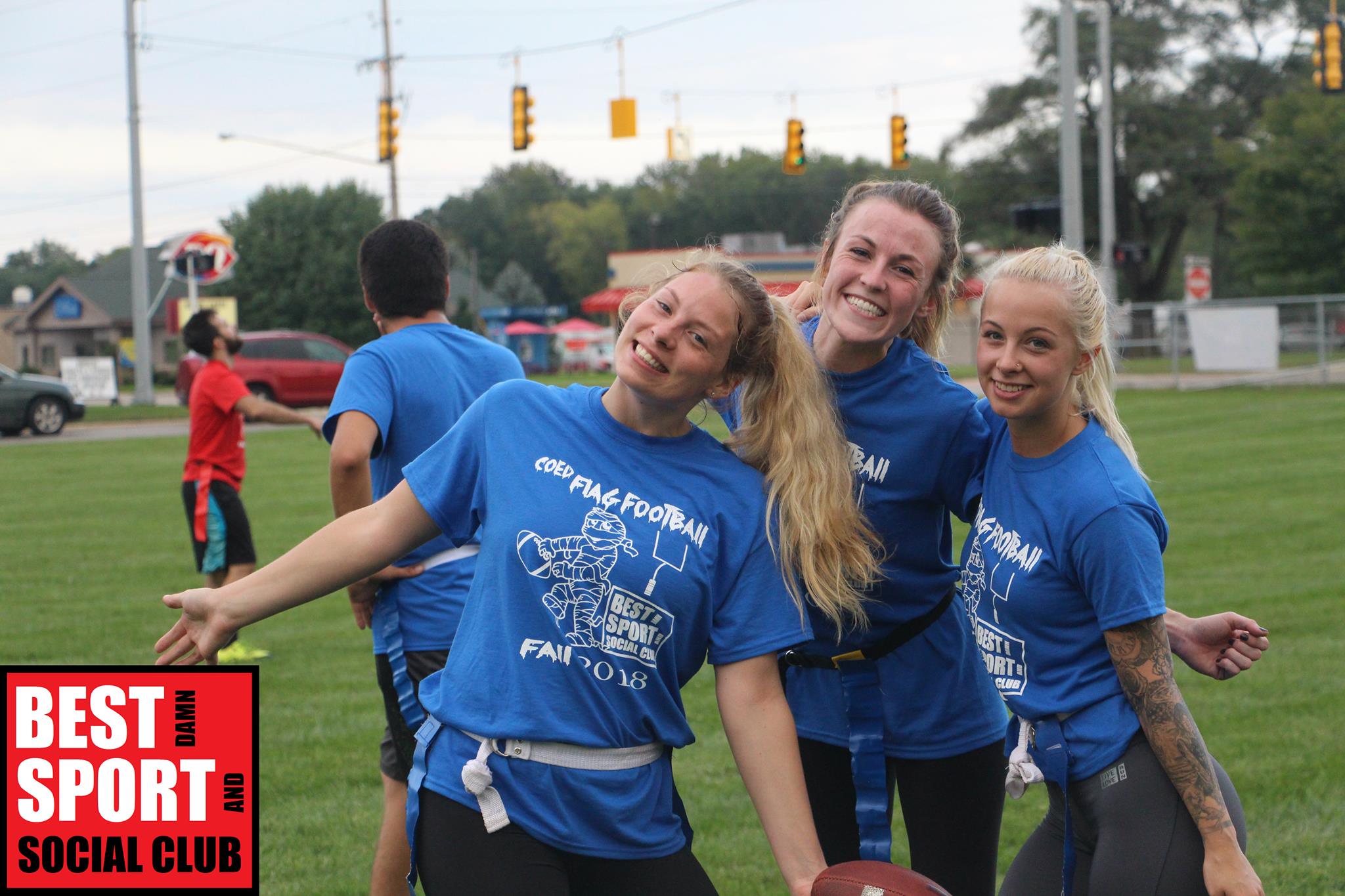 More Info:
Registration Windows
12/15 - 12/30 Female Only Free Agents $40
12/31- 1/15 Free Agent $45
1/15 - 2/23Free Agent $55
2/23 - 3/2 Free Agents $65
Female Captain Draft: Begins Wednesday March 3rd Online
In-Person Draft: Friday March 5th, 8pm EST (1 Male/1 Female acting as Duo Captains, drafting in person)
League Kickoff: 3/18/21
Male Captain Selection: The Number of Captains selected will be based on total people signed up and how many teams can be created with an even number of teams. Captains will be selected by Best Damn staff from a pool of people who choose the "I will play QB and be a Team Captain" option during registration.
Female Captain Selection: The Pool of Male Captains will be put in a random draft order and then each male captain will Draft 1 FEMALE captain to join them via an online draft. The duo will then attend the IN PERSON full team draft on March 5th.
Draft Rules will be laid out before the draft.
WE NEED AS MANY FEMALES AS POSSIBLE TO SIGN UP AND MAKE THIS WORK! SPREAD THE WORD AND FEMALES SIGN UP EARLY. (Male spots will be limited based on the current amount of females registered.)
Minimum Roster Size = 9 (At least 2 females on field at all times)
*BDSSC reserves the right to add players to your team or merge your team if you do not meet requirements
THERE ARE NO REFUNDS FOR ANY REASON OTHER THAN CANCELED LEAGUES. PLEASE BE AWARE OF THIS BEFORE SIGNING UP.
THANKS,
BDSSC STAFF