Co-Ed Monday/Tuesday Indoor Volleyball (Spring) 2019 Volleyball (Indoor) · Co-Ed Social
MonTue
WedThuFriSatSun
8:30pm to 9:30pm
6 vs 6 co-ed
Team Fees

Early Bird

$45.00

per player

Regular

$55.00

per player

Late

$65.00

per player
Free Agent Fees

Early Bird

$45.00

Regular

$55.00

Late

$65.00
THERE ARE NO REFUNDS FOR ANY REASON OTHER THAN CANCELLED LEAGUES. PLEASE BE AWARE OF THIS BEFORE SIGNING UP. THIS LEAGUE WILL SELL OUT. IT WILL HAVE 8 PLAYERS PER TEAM. PLEASE UNDERSTAND THIS BEFORE SIGNING UP. SPOTS ARE 1st COME 1st SERVE. FREE AGENTS HAVE TO BE PLACED IF THEY SIGNED UP FIRST. IF YOU DO NOT SIGN UP YOUR ENTIRE 8 PERSON TEAM BEFORE THE LEAGUE SELLS OUT FREE AGENTS WILL BE ADDED TO YOUR TEAM, YOU WILL ALSO NOT BE REFUNDED FOR ANY REASON OTHER THAN BDSSC CANCELLING A LEAGUE. PLEASE BE AWARE OF THIS BEFORE REGISTERING!!
*YOUR TEAM WILL HAVE 1 GAME PER WEEK, EITHER MONDAY or TUESDAY. Should be a near even split, schedule will be generated after registration is closed.
6v6 - Play best of 3 matches for 1 hour and then join us at our sponsor bar for food and drink specials
PARTNER AFTER BAR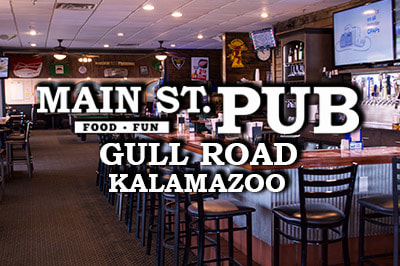 Main St Pub
5462 Gull Rd #5, Kalamazoo, MI 49048

Specials: $3 domestic mugs, $3 micro brew pints

Monday Only: $3.99 Burger Basket
Tuesday Only: 50 cent wings, 50 cent tacos, $3.99 burger baskets, $2.99 1 item pizzas, $3.99 pretzel bun sandwiches
Week 1-6 = Regular Season
Week 7 = Playoffs and Awards show!!
Minimum Roster Size = 8 (You must have 2 females playing at ALL TIMES)
*BDSSC reserves the right to add multiple players to any team that does not have 8 players already