Thursday Preseason Flag Football Game (June 18th, 1 Hour) Flag Football (Grass) · Co-Ed Social
MonTueWed
Thu
FriSatSun
6:30pm to 8:00pm
Free Agents Only, teams randomly assigned by staff
Free Agent Fees

Regular

$4.00

+ 3.0% Processing Fee
Preseason drop in Flag Football! Social and for fun. Best Damn staff will randomly assign teams when everyone arrives at the park and then we will play for 1 Hour.
(Females, Males, and QBs will be evenly and randomly distributed between teams)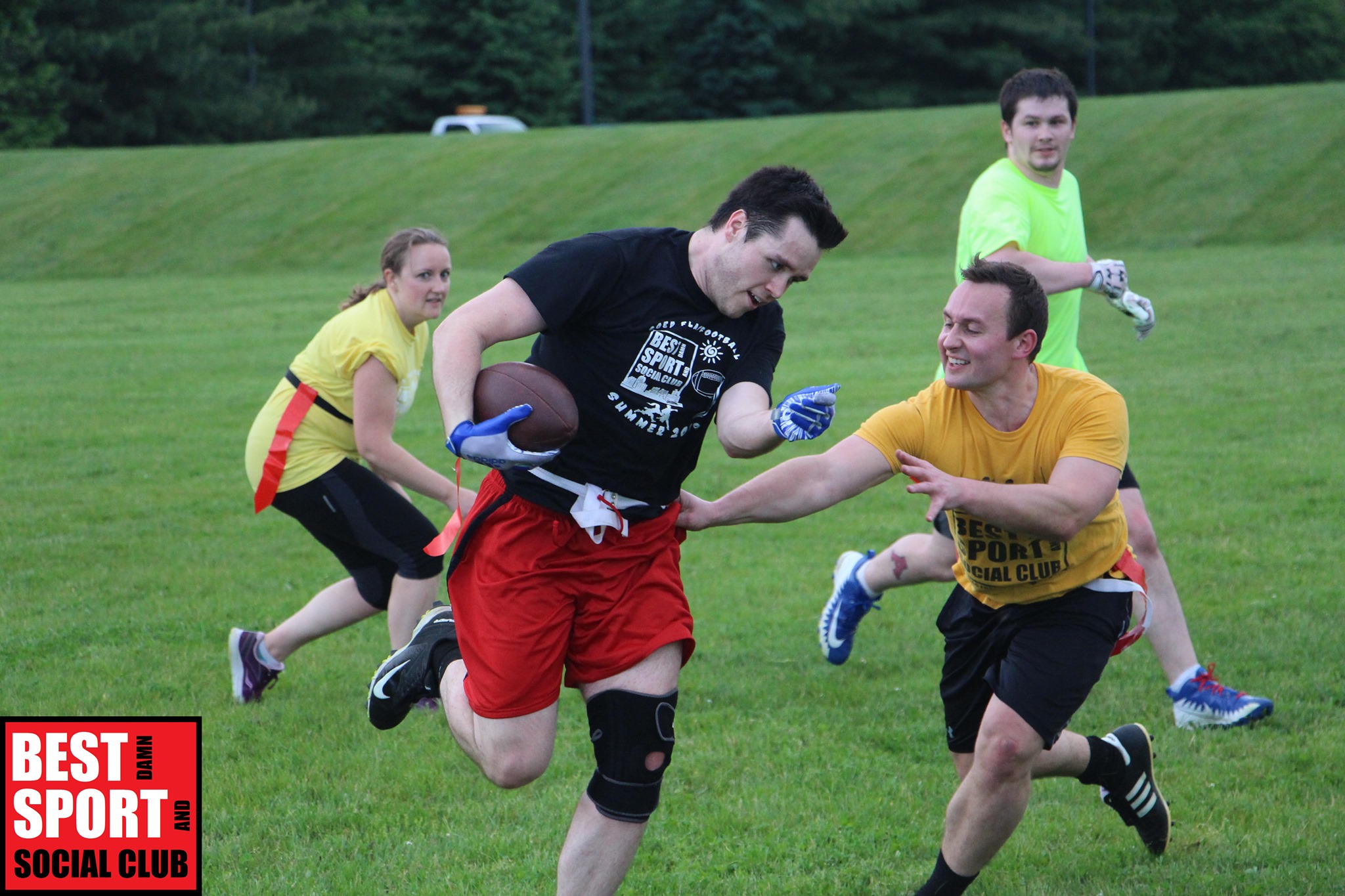 BORGESS HEALTH AND FITNESS MEMBERS PLAY FREE! You will be refunded immediately after your registration is verified. Please bring your Borgess Health and Fitness Member card to the game!!
Flag Football Game Event Details:
Please use the bathroom before arriving. There will be no bathroom access at Borgess Health and Fitness
Please arrive no later than 630pm and immediately line up with distancing so we can assign teams (Line up in groups of Male and Female)
There is a LIMIT to the amount of members who can signup due to group restrictions. The limit on Flag Football signups is 72 people so be aware and register ASAP.
We will create teams as best we can onsite. Some teams may be larger or smaller than 9; but bare with us... This is for FUN!
Members must register online to play with the group before Thursday. We will be taking Venmo payments on site last minute if you forget to register ONLY if we have space for you. (Once event is sold out nobody else can join in)
You are welcome to continue playing after 8pm but Best Damn Staff will be leaving right at 8pm with all Flag equipment.
Fields will not be painted with lines, cones only for preseason.


Covid-19 Safety Guidlines:
You are playing at your own risk! Best Damn is not responsible for any contractions of Covid-19 or any other sickness/injury
PLEASE DO NOT COME IF YOU ARE SHOWING ANY SYMPTOMS OF SICKNESS INCLUDING FEVER,COUGH,ETC...
Please wash your hands before coming
Please do not share drink containers, food, etc...
Please limit physical contact. No hugging, high fiving, etc...
We cannot force you to wear a mask but feel free to do so
Please do not mingle in large groups. We will purposely limiting size of games so we are not in massive groups.